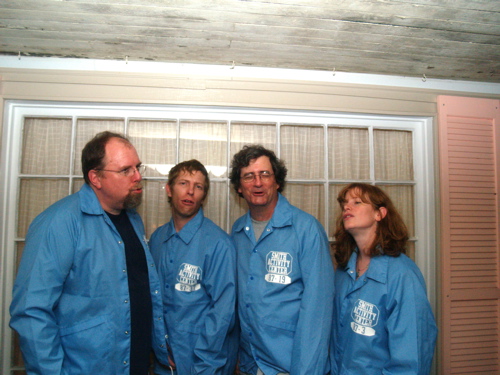 Lud
Lud is a band from Orange County, North Carolina. Bio as follows: SYNOPSIS Started as a summer project in 1992 after several months of goofing around late at night in Chapel Hill's infamous Yellow Recording studios, Lud kept going, putting out a series of widely-acclaimed recordings and playing shows that have earned them near-verb status. The band is on the verge of releasing their fifth album. It is called V.
DISCOGRAPHY
1993 Twistabur (8-song cassette) Recorded at the Yellow House Produced by Kirk, Bryon & Paul and Mike Beard Manufactured in Kirk's room in a house on Pritchard Avenue
1995 Apalachicola (13 song CD); 1997 Sparkling Rope (12-song CD) 1998 Live in Europe (4-song EPCD) 2000 Epiflot (12-song CD) 2003 He Who Sits on the Ice Hears Me Singing (11-song CD) DETAILS
THE BAND bryon settle, guitar; kirk ross, guitar, vocals; sara bell, bass, vocals; lee waters, drums, vocals
FRIENDS & FAMILY ed butler, drum;, sara bell, vocals, bowed banjo; paul price, bass, vocals; evans nicholson, drums; bill graham, bass; graham curry, drums, anthony lener, bass
Lud is a band from Orange County, North Carolina.
---
---