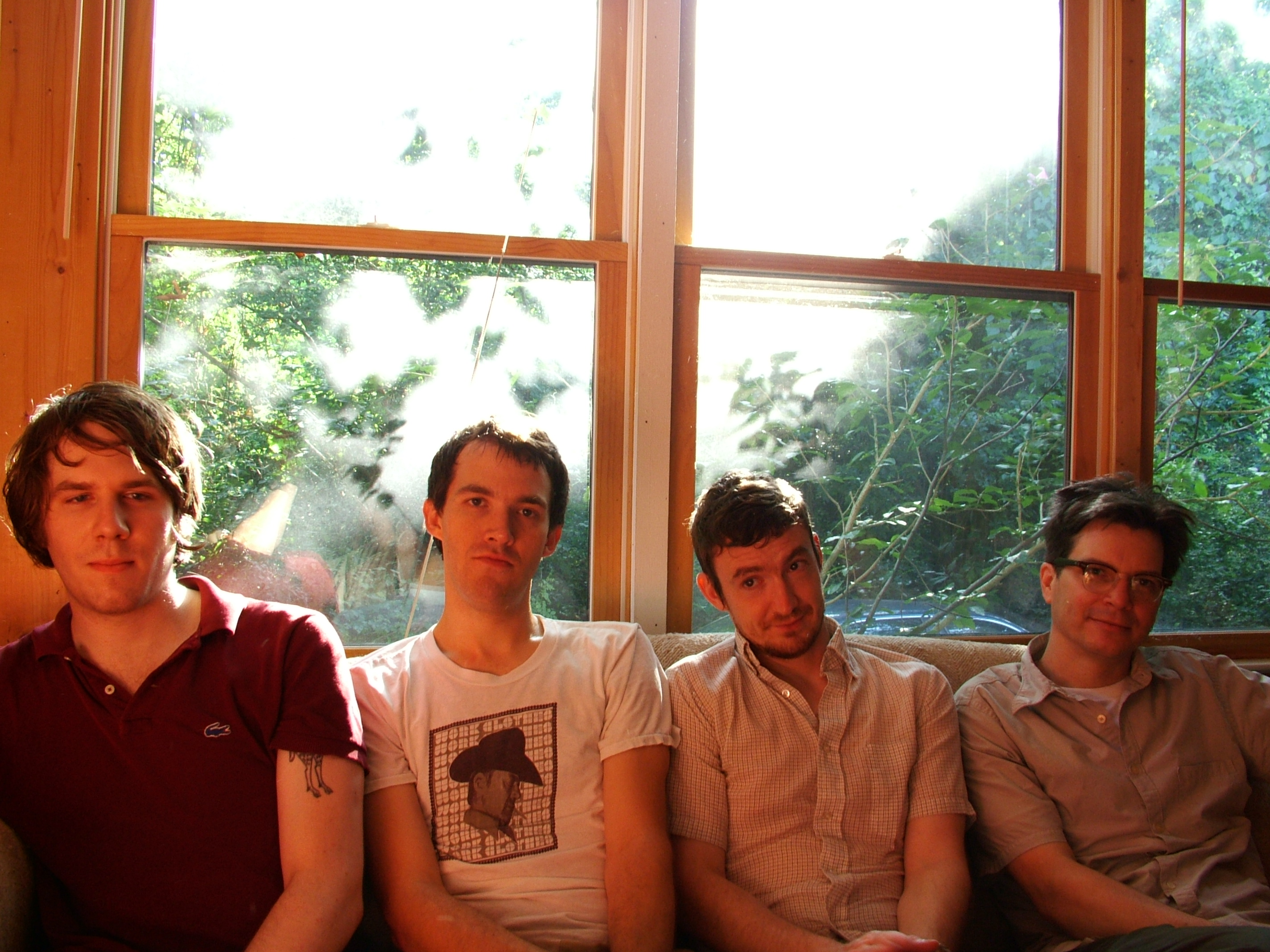 The Nein
The Nein formed in early 2003 after the demise of Cohen and Biggers' former band, The White Octave. Based in Durham, NC, The Nein self-released two CDRs before becoming one of the first American bands on Canadian label Sonic Unyon. Their label debut, a self-titled six-song EP, was released in October 2004, eliciting praise from both sides of the border and helping set the stage for what was to follow.
The band incorporated sound manipulator Dale Flattum after recording the EP. With a setup of sampler and tape decks, Flattum (Steel Pole Bath Tub, Milk Cult) brings an entirely different element to their overall sound. His noises and found sounds are grafted upon The Nein's pop song framework, revealing their innate melodicism through repetition.
In 2004, the band headed into Pontchartrain Studios in Chapel Hill, NC with producer Jay Murphy for their first studio experience as a quartet. Taking time out of recording for their first Canadian tour, the band wrapped up their debut album Wrath of Circuits at the end of December. The results are massive.
Lyrically, much of Wrath of Circuits addresses a fear of technology. The title originates from an activity known as circuit bending: a process that entails randomly connecting different circuits together on a keyboard's or toy's circuit board, manipulating the original sound until a new one is created. "It's a pretty amazing subversion of technology," says Cohen, "but it's also kind of scary to think of one of those machines coming to life randomly" -- hence the 'Wrath of Circuits.' Cohen also recognizes inspiration for the record in the talents of the late Randy Ward, friend to the band and fellow Raleigh/Durham Triangle musician, who built a machine that mechanically played live drums while Ward improvised on circuit-bent instruments. According to Cohen, Ward "inspired a lot of people to experiment more with circuit bending, which has provided the music scene here with a lot of really cool artists."
Not a casual listening experience, Wrath of Circuits forces you to take notice of the interplay between instruments and before you know it, the combination of grin and head-nod is uncontrollable. Dissonant, creative, a danceable cacophony.
. . . . .
The Nein's latest releaseTransitionalisms finds the North Carolina rock quartet closing the first chapter of their history while preparing to move forward with the next.
Transitionalisms continues on from where Wrath of Circuits left off, showcasing the highly experimental nature of the band. It bridges the gap towards their upcoming second studio album, due in early 2007, which promises to be more harmonically and sonically complex than its predecessor.
A six song EP, Transitionalisms contains the final four songs recorded with departing bassist Casey Burns in January, 2006. Included within these four new tracks is "Sexy Beast," named for the movie of the same name, the creeping, building "Convelescent Homes" and an inventive, brilliant cover of the Zombies classic "Butchers Tale" which is an absolute must hear.
Two more additional songs have been included to round out the EP. "Hospital Television" is a drum-less more ambient song that was originally recorded for the band's 2005 album Wrath of Circuits while "The Vibe (Crash Bleeder's Remix)" is an inventively bombastic remix of the Wrath Of Circuits track that takes the song into different directions than was originally intended.
. . . . .
North Carolina's The Nein take another step forward into uncharted territories with their second full length studio album, Luxury. Recorded at Track and Field Studios in Carrboro NC with engineer Nick Peterson throughout 2006, the album is more experimental in nature than the previous Wrath of Circuits album. Unafraid of change and willing to push the boundaries of the typical rock band formation, Luxury finds the quartet mixing textures and stepping away from the typical guitar, bass, drums set up to incorporate more electronic ambiance into their musical mix.
---
---